Wilson Fulton
House and Bank of Stokes

The circa 1850s Wilson Fulton House is one of the oldest brick structures still standing in the Historic District of the Town of Danbury, NC. It is owned and has been restored by the Stokes County Historical Society to be used as the Stokes County Museum of Regional History.




The 1905 Bank of Stokes located to the left of the house is also owned by the Historical Society and has undergone limited restoration.
This historic brick house was built in the 1850's by Wilson Fulton, a Stokes County business man who owned a general store, a tanyard, an ice house, and was a commissioner with the Salem and Germanton Railroad. Wilson, born 12th of January 1819 in Stokes County, was the second son of Samuel and Nancy Redman Fulton of the Meadows community. He was from a well to do family who had prospered with tobacco manufacturing. Wilson married Mary Ann "Polly" Davis on 9th of January 1840. "Polly", as she was known, was born in the Red Shoals community the 28th of January 1819, was the daughter of James Davis, Jr. and Elizabeth McAnally. Both of her parents were from wealthy families that had settled on the Dan in the mid 1700s. Polly's family owned hundreds of acres of prime farm land, making their money on various crops including tobacco. Polly's father opposed the marriage because he felt that Wilson was too frivolous and would not provide a proper life for his daughter, he was not into farming like James Davis, but more into business ventures and speculating.
Wilson was of the Methodist faith and Polly's family held non-denominational services on their plantation. The congregation the Davis family organized later became Davis Chapel Methodist Church. After marrying and moving to Danbury Wilson and Polly became founding members of the Danbury Methodist Church.
In 1849, after Stokes County was divided to form Forsyth, the new county seat was moved to Danbury. Seeing opportunity, Wilson and Polly bought land in Danbury and started construction on the largest home in Danbury. "Fulton's Brick House", as everyone called it, was completed prior to 1855. The bricks were handmade and sundried. Wilson and Polly lived in this large house with seven of their nine children. A 15 month old child, Wilson Davis, died prior to moving into the house. Their last child was born after moving to Texas.
In 1859, Wilson bought land in Texas. They sold their home Danbury and moved to Texas in 1860 to an area called Crystal Springs. Wilson was once again engaged in the mercantile business and had partnered with two other men to open a flour mill. He bought and sold cattle and horses.
When the Civil War began, the Fultons two oldest sons, James and Ed, enlisted and fought for the Confederacy. Their father supplied them with horses, clothing and supplies before their departure. Both of the sons survived the war and returned home safely, Wilson ran a wagon train with troop supplies for the Confederacy from Texas to Louisiana. This wagon train resulted in great financial loss to them by the end of the War. After the War they moved to Rainey Creek, Texas.
While visiting one of their children in Lampasas, Texas in 1875, Wilson died of paralysis on the 23 of December, at age 56. Polly moved closer to her children after his death, and bought almost 400 acres near Lampasas, Texas. She died on 6th January 1913 just a few days shy of her 94th birthday.
The home built by Wilson and Mary Ann Davis Fulton in Danbury is now the Stokes County Museum of Regional History. The Museum is located in the Danbury Historic District and listed on the National Register of Historic Places. The circa 1850s house is one of the oldest brick structures still existing in Stokes County. The house serves as a local and regional historical museum containing many donated items of local historical interest, period to the house.
The existence of a museum in Stokes County promotes historical interest and preservation by providing future generations an opportunity to learn about the past. It conveys the message to our children that the people of Stokes County care about their history, and that they care about preserving their heritage.

In order for this project to remain a reality, the Historical Society needs the continuing support of the citizens of Stokes and surrounding counties as well as the support of local governments and businesses. We ask that you get involved, have a voice in your local history, and support the Stokes County Historical Museum. The picture below is before restoration.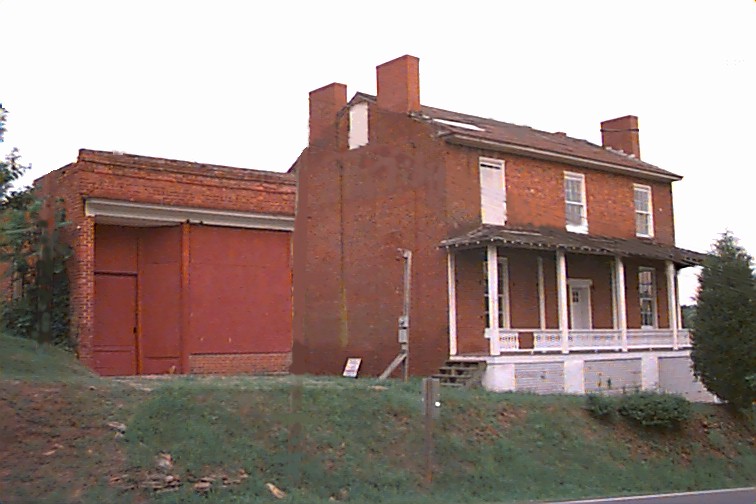 | | |
| --- | --- |
| Stokes County Museum of History | The photos below are just a sample of the items in the museum. |