The mountains chosen for the background picture on our website are special in a way that is unique to Stokes County. The view is from the west looking east. The mountain range you see is the Sauratown Mountain range. It is named for the Saura Indians who inhabited the region before the white man settled in the area. There was a Saura Indian "Town" located on the Dan river just outside of the town of Walnut Cove which is just beyond the mountains in this picture. The mountain in the foreground is commonly known as Sauratown mountain. In years past it was known as "Eaton's Peak" after the Eaton family that settled at the base of the mountain. On the mountain just on the other side of Sauratown mountain to the right is "Cook's Wall" and to the left is "Moore's Knob". Just beyond Moore's Knob and out of sight is Hanging Rock State Park. The last mountain just beyond Hanging Rock is "Flat Shoals" mountain.
John Stokes
In 1789, Surry County was divided in half to form the county of Stokes. This division included todays Stokes and Forsyth Countys. The southern half of Surry included present day Yadkin County. This was the same year that NC gained statehood as the 12th state in the Union. Our county was named for Revolutionary War Captain, John Stokes, a native of VA, who spent his early years in Halifax County, NC. He served in Washington's Continental Army fighting in northern engagements in Trenton, Princeton, Brandywine, Germantown and Monmouth. In 1780 Captain Stokes went to SC to help defend Charleston. Before reaching Charleston, at the Waxhaws, just south of present day Charlotte, Stokes and his fellow American forces were attacked and defeated by Banastre Tarleton's British forces. This bloody engagement became known as more of a massacre than a battle. Captain Stokes fell after being severely wounded including the severing of his hand. He then pleaded with a British soldier for "no quarter", meaning finish me or kill me. The soldier bayoneted Stokes as did other members of Tarleton's legion...yet somehow Stokes survived. Andrew Jackson, who was about 13, lived close by the battle site with his mother. They nursed Stokes' wounds until a surgeon could remove more of his arm. Stokes went on to study law and opened offices in Rowan and Montgomery Countys...he tutored several law students including Andrew Jackson who would later become the 7th President of the United States! Stokes served in state government, was an original trustee of UNC, and received a judicial appointment as the first federal Judge for the NC district from George Washington in 1790. It is thought that even though John Stokes never lived here, that his constituent Joseph Winston of Surry/Stokes county may have suggested naming the new county after hero and statesman, John Stokes. Stokes only served one term as federal Judge. He died in October 1790 after his first court appearance. His estate was located in Davie County on property that later came into the ownership of the Hairston family... Cooleemee.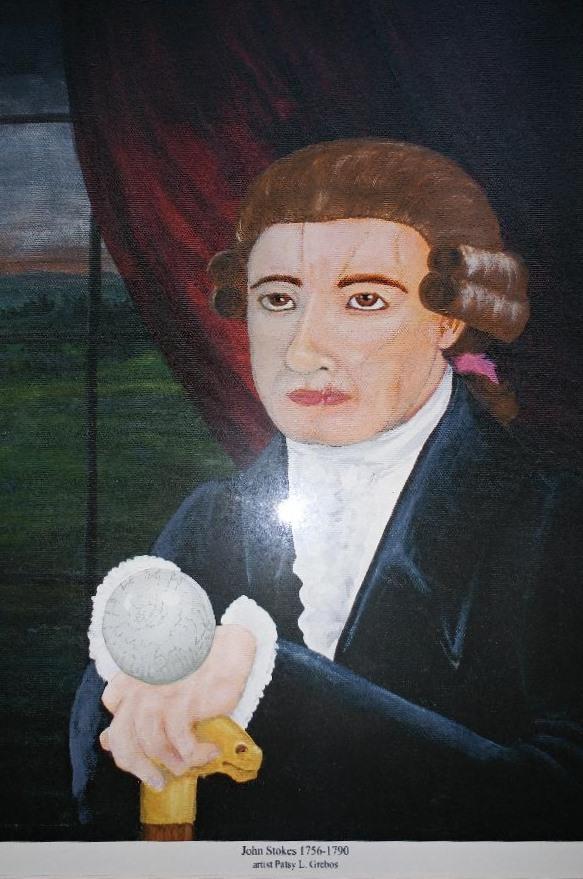 Did you know?
George Washington, the Father of our country and our first President of the United States once spent two nights in Stokes County! It's true. On his tour of the southern states in 1791 George Washington stayed two nights in Salem, North Carolina. Yes, Salem is in Forsyth County today but in 1791 Forsyth County was still a part of Stokes County. Forsyth County was not formed until 1849. So, when Father George stayed in Salem, now referred to as Old Salem, he was in Stokes County.
Our Scots-Irish Heritage

The term, Scots-Irish, refers to the Presbyterian Scots who settled in Ulster (modern-day Northern Ireland) during the seventeenth century. Scots-Irish is an Americanism, generally unknown in Scotland and Ireland, and rarely used by British historians. These are the people of Scottish descent, who, having lived for a time in the north of Ireland, migrated in considerable numbers to the American colonies.
The great migration of Scots-Irish to America took place during the first half of the 18th century. An estimated 250,000 individuals came to America during this period. At the time of the Revolution, they may have comprised ten to fifteen percent of the population of the United States. Their negative feelings toward England played a large part in the attitudes that led to the American Revolution.
The Scots-Irish left Ulster as a result of British economic pressures in the region, requirements that they pay ten percent of their income to the Anglican Church, friction with their Catholic Irish neighbors, and greater economic opportunities in the New World. A second Irish immigration occurred during the period 1846-1856 resulting from the potato famine. An estimated two million Irishmen, mostly Catholic, immigrated to America.
Traveling down what later became known as the Great Wagon Road , the third great region of Scots-Irish settlement was in the Piedmont area of North and South Carolina.
William H. McGee, writing in the Stokes County Heritage Book published in 1981, lists the following families as known Scots-Irish settlers in Stokes County. Of course, there are dozens more, many of whom spell their names beginning with the characteristic "Mc":
McCormack, Carroll,McMillian, McGee, Campbell, McMurry, Laird, McAnally, McCall, McCamens, Gammel, Lyons, Grogan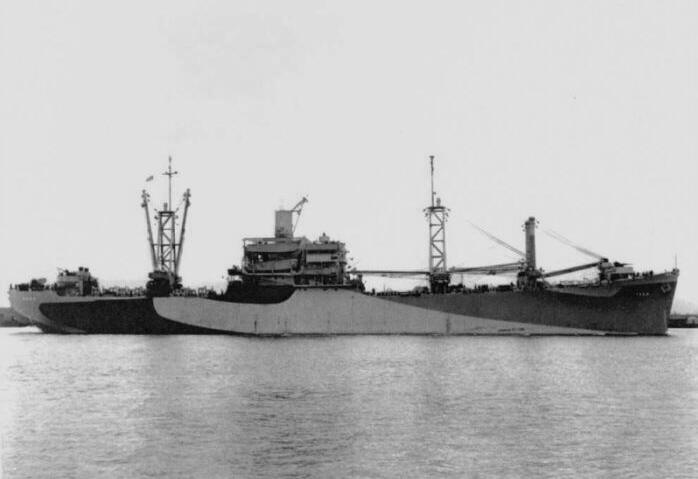 USS STOKES (AKA-68)
USS Stokes (AKA-68), shown here in her camouflage colors, was a Tolland class attack cargo ship named for Stokes County, North Carolina. The Stokes was designed to carry military cargo and landing craft, and to use the latter to land weapons, supplies, and Marines on enemy shores during amphibious operations.
The USS Stokes (AKA-68) was commissioned on 12 Oct 1944 at Charleston Navy Yard; Charleston SC. LCDR George W. Graber was in command.

During World War II the ship was assigned to Asiatic-Pacific Theater and participated in the following campaigns.

Assault and Occupation
Iwo Jima Operation 19 Feb – Mar 1945
Okinawa Gunto 9-19 Apr 1945

Decommissioned 9 July 1946 at Norfolk, Virginia after earning two battle stars during World War II
To read more about this great ship check out this website: https://www.navsource.org/archives/10/02/02068.htm